Half Day Trip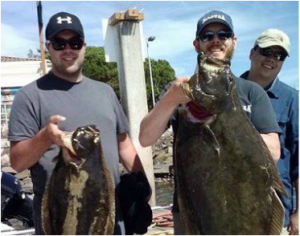 (5.5hrs – $800) Departing 6:30am & 1pm

This is the perfect fishing outing for families and beginning ocean anglers as well as those visitors with limited free time during a visit to town. This trip will be fishing for inshore species such as Yellowtail, halibut, bass and rockfish specializing in light tackle.
3/4 Day – Local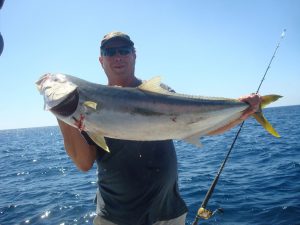 (9hrs – $1,350) Departing 7am

The kelp beds off of Point Loma and La Jolla are a short 30 to 45 minute boat ride from the dock and offer a variety of fishing opportunities. In the spring and summer months, surface fish like Bonito, Barracuda and Yellowtail are targeted, but there can also be great action fishing for Kelp Bass and Sand Bass. Although opportunities for surface fish are available year round, cooler waters in the winter tend to shift focus to fishing the bottom for Rockfish, Halibut and Lingcod.
3/4 Day – Islands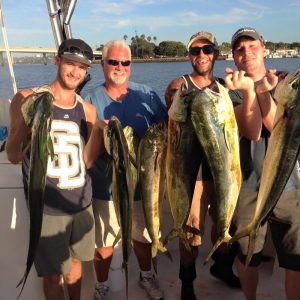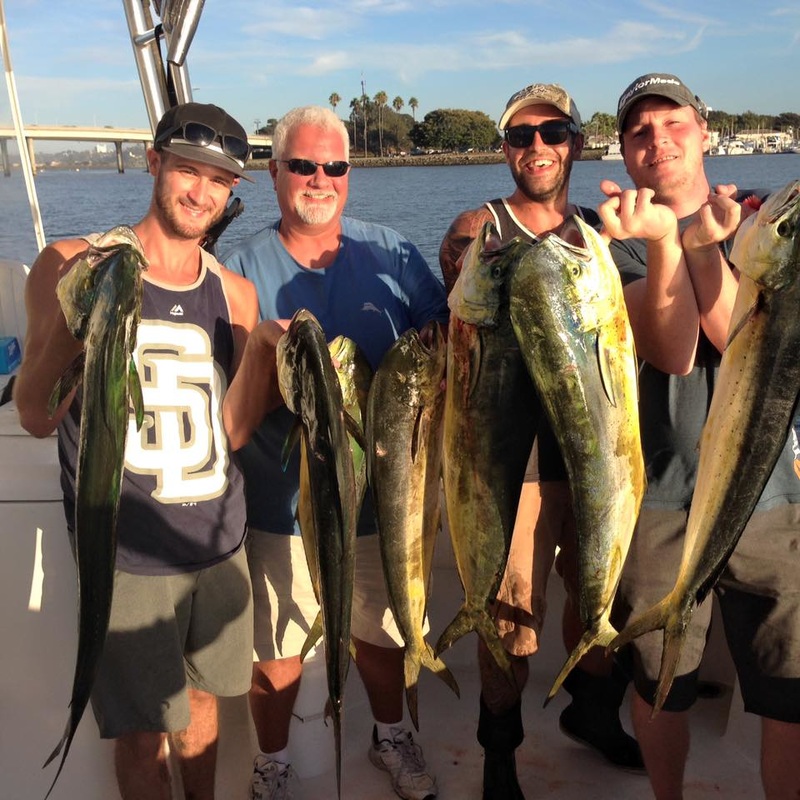 (9hrs – $1,650) Departing 7am

This trip is similar to the ¾ day local but instead will be fishing Mexican waters at the Coronado Islands. The Coronado Islands, located about 20 miles south of Mission Bay, are often home to some of the best fishing that San Diego has to offer. During the warmer months Yellowtail and Bluefin are in abundance. While during the winter months cooler water tends to change our focus to bottom fishing for Halibut, Rockfish, and Lingcod. A passport is required to fish the Coronado Islands. **Passports Required**
Fullday Offshore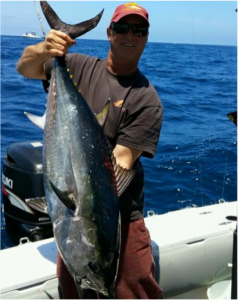 (12hrs – $1,800) Departing 6am

This trip can fish the Coronado Islands, which are approximately 20 miles south of Mission Bay, as well as fish the northern Baja coastline. If conditions dictate, this trip can also fish San Diego's North County coastline. This trip will be targeting Tuna, Dorado(mahimahi), Yellowtail and Marlin. If fishing the Coronado Islands, a passport is required.**
Logistics
All Trip Prices are for up to 4 passengers maximum. Prices Include:

Bait
Tackle
Fish Cleaning
Water & Coffee plus Snacks and pastries are included
Meals are not included. There is a deli located at Dana Landing and you can pre-order sandwiches or you may bring aboard whatever you choose.If you plan to bring beverages (alcoholic or non-alcoholic), please do not bring glass bottles for safety reasons. There is a cooler on board.